If you want to minimize the stress on your wrists and forearms while typing, you should check out a tenkeyless keyboard. Its unique design eliminates the number keys and places the mouse closer to the hand while typing. Even though there are no numbers, the tenkeyless keyboard still has arrow keys and a home cluster. Tenkeyless keyboards are light and portable, but it may take some time for the average user to get used to the different placement of keys.
What Exactly is TenKeyLess (TKL) Keyboard?
A keyboard that does not have 10-key numeric keys on the right side is called a TenKeyLess keyboard. As a result, TKL keyboards are around 80% the size of a standard keyboard. Apart from the designated number pad keys 0 to 9, a few more keys typically present on the right side of a full layout keyboard are also eliminated. Extra enter key, num lock, scroll lock, plus, minus, and so on.
How many keys does a TKL keyboard have?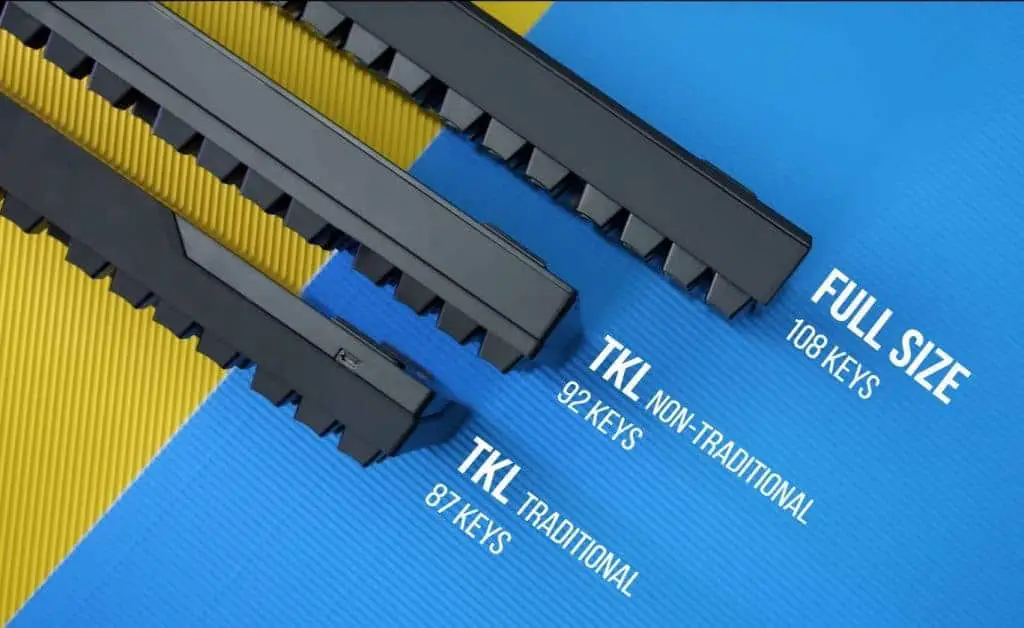 A TKL mechanical keyboard has 87 keys in total, compared to a full layout size keyboard, which typically has 108. Okay, so it's not quite 10 keys less, since that would be 94, not 87. Yes, we're a little puzzled as well, but the 10 keys referred to are the dedicated number keys on the right side of the board, numbered from 0 to 9. Additionally, a few additional keys have been deleted, such as the extra enter key on the right side.
There is also a less popular TKL keyboard variation with 92 keys.
Are Tenkeyless keyboards better?
If you're seeking a more compact keyboard, go no further than TKL models. There are a variety of reasons for this, including a desire to reduce space or to choose a product that is more convenient for traveling.
A full-sized keyboard with dedicated number keys on the right side is probably necessary or desirable if you're into spreadsheets. However, if you seldom use the number keys, a TKL keyboard may be a better option for you.
When playing games, you may not need the extra number keys on a full-size keyboard and instead want to optimize your gaming desk area for smoother mouse mobility.
Benefits of a TKL keyboard
Eliminates the need for additional desk space
This is frequently due to a lack of desk space. As a result, TKL keyboards are popular among gamers who need a gaming configuration that optimizes the amount of space available to maneuver their mouse.
Easy for gamers who tilt their keyboards.
Another reason is that many gamers tilt their keyboards at a 45 or 90 degree angle when gaming and the TKL keyboard's narrower width facilitates this tilting.
Modern Design
When you're gaming, your shoulders, wrists, and hands are subjected to considerable strain. Due to the narrower width of a TKL keyboard, you may position your mouse closer to your body, bringing your arm closer to your shoulder. This results in reduced overall strain. Additionally, you can find additional information about how to properly position your hands when gaming here.
Convenient for travel
Being around 80% the size of a standard keyboard, they're excellent for throwing into your favorite bag and taking with you whether you're out and about or traveling. Numerous TKL keyboards also include detachable USB cords. And this just adds to their portability.
Few TKL Keyboards
Durgod Taurus K320
TKL Mechanical Keyboard
87 Keys Tenkeyless
USB C Wired
Doubleshot PBT Keycaps
Programmable Keys
NKRO Rollover
Windows & Mac
The durability of the case and adjustable feet make the Durgod Taurus K320 a popular choice for a keyboard. The keyboard has a wide range of functions and is a comfortable size. The keyboard itself is easy to operate with a single hand. In addition, the Durgod K320 comes with an ergonomically designed keypad. You'll love its many useful features, including a handy carry case.
The keyboard is comfortable and offers excellent typing quality, thanks to the compact spacing of the keys. You should not experience any pain or fatigue while typing on the Durgod Taurus K320. However, your experience may vary based on your preference for a certain keyboard switch. If you want a keyboard with the best typing quality, you'll likely prefer the Leopold FC900R. The K320 weighs nine hundred eight grams, so you'll need to consider whether you'll be typing on it for extended periods of time.
The Durgod Taurus K320 TenkeyLess features 87 keys. It comes in two colorways and is available with a selection of Cherry MX mechanical switches. It has full N-key rollover and anti-ghosting technology. The keyboard has adjustable feet, as well as a plastic case for added stability. Compared to traditional mechanical keyboards, the Taurus K320 Tenkeyless is easy to use.
The Durgod Taurus K320 is USB Type-C compatible. It also has two USB cables, a wire key puller, and a dust cover. Compatible with Windows 10, Windows 8, and MAC OS, this keyboard is perfect for a variety of environments. In addition to a USB Type-C connector, this keyboard also features a 2.4 m cable for easy connection. Furthermore, the cable is braided for added durability.
The Taurus K320 comes with a full N-key rollover and anti-ghosting technology. The keyboard is designed with slanted rows and slightly concave keycaps to improve typing comfort. The keyboard has a sturdy build, too. The base is made of steel, with almost no flex. In addition, the keyboard is heavy enough to comfortably lift. You'll appreciate its durability and convenience.
Razer BlackWidow TE Chroma v2
TKL Tenkeyless Mechanical Gaming Keyboard
Orange Key Switches
88 keys
Tactile & Silent
Chroma RGB Lighting
Magnetic Wrist Rest
Programmable Macros
Classic Black
The Razer BlackWidow TE Chroma v2 TKL Tenkeyless Mechanical Gaming Keyboard has a mechanical gaming keyboard that features actuating switches placed at optimal distances for speed and responsiveness. These switches consistently deliver high performance and durability. For those who aren't familiar with mechanical switches, they are the key to Razer's legendary gaming performance.
The tournament edition Chroma V2-type keyboard is the fastest sports gaming keyboard ever. It features mechanical switches, instant trigger technology, and 16.8 million colors. It's also easy to pack and carry to matches and comes with a detachable USB cable. Razer also offers a full line of gaming mice. The Razer BlackWidow TE Chroma V2 is the ultimate in sports gaming.
The Razer BlackWidow TE Chchroa v2 mechanical gaming keyboard is ergonomically designed to make typing comfortable. Its textured plastic and locking feet make it durable and comfortable to use. It also features Razer house-brand switches and a cable that is braided for durability. Despite its minimalist aesthetics, the BlackWidow TE Chroma v2 TKL Tenkeyless Mechanical Gaming Keyboard is a great option for gamers.
The Razer BlackWidow TE Chchroa v2 TKL features full RGB lighting and programmable macros. It's also compatible with a USB receiver. You can get both the BlackWidow TE Chroma v2 and the mini HyperSpeed wireless keyboard. The BlackWidow TE Chroma v2 features a plush wrist rest and tactile Razer Orange switches.
The Razer TE Chroma v2 TS Tenkeyless Mechanical Gaming Keyboard is another excellent choice for gamers. With a detachable USB cable and tenkeyless design, the BlackWidow TE Chroma v2 TKL Tenkeyless Mechanical Gaming Keyboard provides you with excellent comfort while gaming. Its sleek form factor allows you to place it anywhere on your desk. If you're a programmer or work in an office, you'll find the Razer BlackWidow TE Chroma v2 TKL Tenkeyless Mechanical Gaming Keyboard a great companion for your work.
Logitech G915
TKL Tenkeyless Lightspeed Wireless RGB Mechanical Gaming Keyboard
Low Profile Switch Options
Light Sync RGB
Advanced Wireless and Bluetooth Support
90 keys
Tactile
Designed with the user in mind, the LIGHTSPEED pro-grade wireless and advanced LIGHTSYNC RGB technologies of the G915 TKL keyboard and mouse are the perfect companions for a long day of work. Moreover, they feature high-performance low-profile mechanical switches. Crafted with premium materials, the G915 TKL offers a sleek, compact form factor that's aesthetically pleasing.
The compact tenkeyless design is one of the most important features of the new Logitech G915 TKL gaming keyboard. According to Logitech Gaming executives, this new keyboard delivers pro-grade performance with flexibility and freedom from cords. Creates a clean aesthetic for battle stations. The ultra-dun design is a welcome feature for gamers and promises to raise the bar for gaming keyboards.
The Logitech G915 TKL features a 40-hour battery life and can be recharged in three hours. Its battery life can be extended further with low-battery LED warning icons. These LEDs will illuminate when battery life is down to 15%, prompting you to plug it in. It also comes with LIGHTSYNC RGB Technology and 16.8 million colors, so gamers can choose the color scheme that suits their needs.
Although the Logitech G915 TKL keyboard is compact, there are still a few notable shortcomings of this device. It is not compatible with many mechanical keyboard accessories. Its low profile makes it ideal for users on a budget. The lack of a number pad on a gaming keyboard is also a major drawback. In spite of being a great keyboard, its price tag is still far too high.
Another notable disadvantage of the TKL keyboard is the absence of a number pad and a function row. While this makes it slightly smaller than its actual size, the TKL keyboard still offers all the keys necessary for gaming. Another notable disadvantage of the Logitech G915 TKL keyboard is its lack of a number pad, which could prove problematic for some people. Its slim design makes it ideal for LAN parties, and it even has a space to hold the LIGHTSPEED Wireless dongle.
The Tenkeyless Logitech G915 TKL keyboard features low-profile GL mechanical key switches. They are half the height of standard mechanical keys and offer 25 percent faster actuation and a more comfortable typing experience. Additionally, the Logitech G915 TKL keyboard comes with a tactile feedback sensor and audible typing. The G915 TKL keyboard is a great option for gamers and professional gamers who want to maximize their performance with a high-quality keyboard and is also suitable for people who don't mind the price and shorter length.
Drop CTRL High-Profile Mechanical Keyboard
Tenkeyless TKL
87 Keys Gaming Keyboard
Hot-Swap Switches
Programmable
Backlit RGB LED
USB-C
Doubleshot PBT
If you're looking for a mechanical keyboard that's built to last, consider the CTRL mechanical keyboard. This keyboard has a solid aluminum frame with built-in switch plates and hot-swaps switch sockets, making it easy to swap out switches without hassle. It's also fully programmable through QMK, allowing you to assign macros to every key. The keyboard also comes with dual USB-C connectors for the fastest possible connections.
The Drop CTRL has a mechanical design and 87 keys. The keyboard is equipped with RGB LED backlighting and Doubleshot PBT keycaps. It also has an aluminum baseplate and high-quality, hot-swappable switches. The keyboard also comes with two different profile options, one with a low profile, and one with a high profile. The Drop CTRL has full RGB backlighting and individual-lit keys for added convenience. Want to know What Are The Keyboard Symbol Names?
Its backlighting has a fully customizable RGB backlight and underlighting. Users can set the backlight to a single color or can program millions of colors to every key. It also has a translucent LED diffuser to minimize hotspots. Because the Drop CTRL uses open-source QMK firmware, users can change the lighting options through the keyboard's software. It's worth noting, however, that the firmware files are very large, over 50 kb.
The design of the Drop CTRL keyboard is sleek and feature-packed. The company sought input from the Drop community while designing the keyboard. The keyboard comes with a solid aluminum frame, a built-in switch plate, and magnetic legs. The keyboard also comes without pre-installed switches. You can use TKL switches or stabilizers to customize it for your preference. Hot-swappable switch sockets make swapping switches a breeze.
The Drop CTRL mechanical keyboard offers a wide range of customization options. The keyboard comes with a wide range of hardware and software customization options. If you want a more customizable mechanical keyboard, look no further than the Mechanical Keyboards website. The company's extensive line of mechanical keyboards is also available. There are also keyboards with over 100 keys, including tenkeyless keyboards. With a few extra dollars, you can buy the Drop CTRL mechanical keyboard and enjoy the benefits it has to offer.
Are TKL keyboards more expensive?
To put it simply, they are not. TKL keyboards are a niche device intended mostly for gamers. As a result, they are predominantly mechanical switch-based keyboards. Additionally, mechanical keyboards are more costly than non-mechanical keyboards (like membrane or rubber-dome keyboards). Thus, it is more correct to state that mechanical keyboards cost more.
However, when comparing a complete mechanical keyboard to a TKL mechanical keyboard from the same manufacturer, the TKL variant is frequently less expensive or the same price.